Relocation Service Delivery
High Touch Service Your Personal Consultant Domestic Relocation Touchpoints The Transferee Experience Our Survey Results
OSG believes in complete and personalized access and accountability.
Our Single Source Service Solution delivers a seamless corporate relocation process for you and your employees.
High Touch Service
Our global mobility consultants manage every detail of every relocation form start to finish. Our corporate relocation service delivery model ensures that the information given to you and your employees remains current, consistent, and accurate.
Your Personal Consultant
An Employee-dedicated Relocation Consultant / Global Assignment Consultant
is the primary point of contact and accountability to your relocating employees.
Designed to support specific move types:

Homeowners
Renters
Global assignments
Provides needs assessment and continuous policy counseling
Advocate throughout the process
Informs employee of benefits available
Coordinates with other OSG support functions including:

Client finance, real estate brokers, temporary housing, household goods, mortgage, appraisal, closing departments, cross-cultural, language, tenancy management, destination services, etc.
Domestic Corporate Relocation Touch points
Oneida seamlessly manages every step of the relocation process.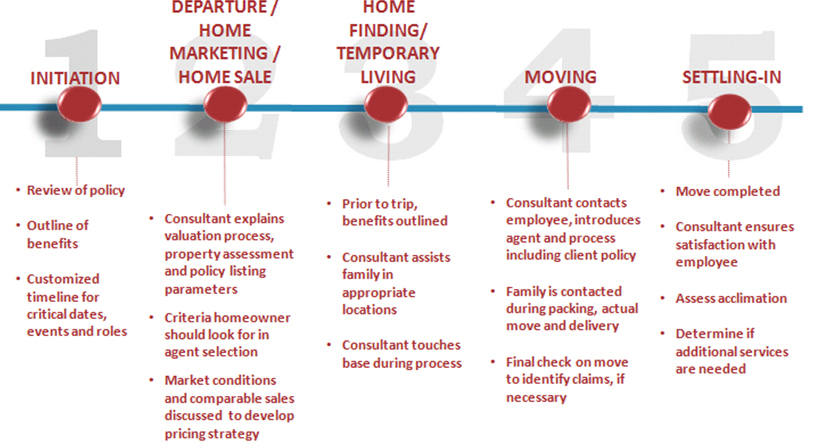 The Transferee Experience
Oneida manages the relocation at every step, and seeks candidate feedback to ensure satisfaction and process comfort all from start to finish. Therefore, we survey the candidate at various points during the relocation.
Initial Survey, sent 30 days after initiation
Single Point Contact, review all services
Vendor Network, review performance delivery
Post Closing Survey, sent after closing
Customer Experience, review all services
Vendor Network, review performance rating
Our Survey Results
We are very proud of our transferee experience results
Our transferee survey results are based on a 4 point scale
(Excellent, Good, Satisfactory and Poor).
| | |
| --- | --- |
| Year | Transferee Survey Results |
| 2013 | 98% Positive satisfaction (Excellent & Good) |
| 2012 | 96% Positive satisfaction (Excellent & Good) |
| 2011 | 97% Positive satisfaction (Excellent & Good) |
Oneida Solutions Group has the relocation service delivery experience you can count on. Call today for more information.